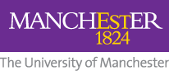 Home
University College for Interdisciplinary Learning
Study outside your norm with UCIL.
Sign up for a UCIL unit in semester 2 and gain credit while broadening your knowledge of something new.
No matter who you are or what you're studying, we offer a variety of course units you can study as part of your degree at The University of Manchester.
So, whether you want to learn how to set up a side hustle, improve your mental health or explore the existence of aliens, there are no limits to your learning.